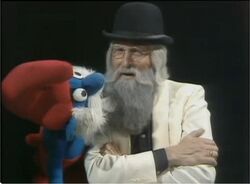 Petrus Antonius Laurentius "Pierre" Kartner (born April 11, 1935) is a Dutch musician who sings under the alias Father Abraham, and who has written around 1600 songs.
In May 1977, Kartner was asked to make a promotional song for an animated movie about the Smurfs. The record company pressed only 1,000 copies of the single, called The Smurf Song (no relation to the Smurf song of the cartoon show), since they were unsure about the success of the single. However, they were all sold within one day at a Schlager festival. After a repress, 400,000 singles were quickly sold. A full Smurfs album called Father Abraham In Smurfland was then created, which also climbed the charts, with 500,000 copies sold. The album was released in several dozen countries, including Germany, France, Italy, Spain, Sweden, and Japan, and in various different languages, all sung by Kartner. The album scored a number one hit in 16 countries. Subsequently, Kartner released other Smurf-themed albums, again in various countries and languages, such as Ga je mee naar Smurfenland (Dutch) and Vater Abraham im Land der Schlümpfe (German). In all, Kartner's Smurf works have sold around 25 million copies.
Trivia
The tune for Father Abraham's Smurf Song was used for the jingle for the National Benzole commercials. It would later be reused for Australian BP commercial featuring The Smurfs in the mid 1980s.
Community content is available under
CC-BY-SA
unless otherwise noted.