Pierre Culliford (June 25, 1928 – December 24, 1992), known as Peyo, was a Belgian comics artist, perhaps best known for the creation of The Smurfs comic strip from which the cartoon show is based. His work is being carried on by his son Thierry Culliford, who has currently adopted the pen name Peyo for all future works through Studio Peyo.
Biography
Peyo, pseudonym of Pierre Culliford, is known all over the world as the creator of the 'Smurfs', originally known as 'Les Schtroumpfs' in French. The origins of these funny blue dwarves lie in Peyo's medieval 'Johan et Pirlouit' series, that appeared in Spirou magazine during its glory days in the 1950s. The huge popularity of 'Les Schtroumpfs' resulted in 2 animated feature films "Les Aventures des Schtroumpfs" and "The Smurfs And The Magic Flute (film)", an extensive merchandise line, a Hanna-Barbara TV series, and a Smurf theme park in Metz, France (called Big Bang Schtroumpf from 1989-91, and Walibi Schtroumpf from 1991-2002, bought by Six Flags in 1998).
After his studies at the Academy of Fine Arts in Brussels, Culliford went to work at an animation studio. The studios soon folded, but it did leave him the acquaintance of his befriended colleagues André Franquin, Morris and Eddy Paape. Peyo decided to turn to the advertising profession, while creating some short comic strips. However, these stories were not successful and ended very shortly after creation. His comics creating career was not a success until the creation of "Johan" in 1946, which was his first comic series. and the first successful one.
This first comic was 'Johan', a historical series about a page. In addition, he launched the gag series 'Poussy' in Le Soir. 'Johan' also appeared in Le Soir from 1950, but moved over to Spirou magazine two years later. There, the series got its definite look. Johan's blond hair changed to black and the somewhat dull main character got the hilarious side-kick Pirlouit. 'Johan et Pirlouit' became one of the most popular series of the magazine.
In the 'Johan & Pirlouit' episode 'La Flûte à Six Trous' (in 'Le Journal de Spirou' magazine, October 1958), the two heroes discover the strange blue dwarves called Schtroumpfs. There is a legendary anecdote about the creation of the name of these dwarves. Peyo and Franquin were having dinner in a restaurant, when one them asked the other for the salt. Instead of asking 'Passez-moi le sel', he asked 'Passez-moi le schtroumpf', and the name was born!
Spirou's chief-editor Yvan Delporte saw the possibilities of the 'Smurfs' and persuaded Peyo to create a spin-off. The first solo appearances of 'Les Schtroumpfs' appeared in Spirou's "mini-récit" section, starting in 1959. The success was immense, so Peyo eventually redrew these first stories in "normal size" and continued the series in Spirou's regular pages.
Although Peyo was successful with 'Johan et Pirlouit' and even more with 'Les Schtroumpfs', he also launched the 'Benoît Brisefer' series in 1960. This comic, about a small boy with superhuman strength which he looses when he gets a cold, has become another Peyo classic. Peyo also produced new 'Poussy' gags in Spirou and created on 'Jacky et Célestin' in Le Soir Illustré. The expansion of activities and the increasing popularity of the 'Smurfs' resulted in the foundation of Peyo's own art studios. Peyo would teach many of today's famous comic artists in this studios, including Walthéry, Derib, Gos, De Gieter, Benn, Francis, Kox, Desorgher and Wasterlain. In the 1970s, Peyo more and more let go of his other series, to focus on the 'Smurfs'.
The upcoming international success of the 'Smurfs' in the early 1980s led to a reorganization of Peyo's activities. The business aspects of the Smurfs (merchandising, the Schtroumpfs magazine, and his own company: Cartoon Création) were handled by his family members. Peyo was head of his 'Smurf' empire until his death in 1992. In 1992, the studios created new albums of Peyo's older series, such as 'Johan et Pirlouit' and 'Benoît Brisefer'. Their creator, Pierre Culliford, died the same year on Christmas Eve from a heart attack.
Quotes
These appear on various displays of his work at the Belgian Comic Strip Center, translated into English:
"I would be lying if I said I was a brilliant student. As is the rule for future artists, I spent my time illustrating the margins of my exercise books. I particularly liked the Latin grammar lessons because the exercise book had very wide margins, where I felt less restricted!"
"Contrary to the small, often evil characters in popular legends, such as gnomes and trolls, I wanted mine to be reassuring and kind. The Smurfs aren't really heroes. They form a community in which it is nice to live. Each one works for his pleasure. They practice the principles of equality, liberty, and fraternity."
"If you look at a crowd, you get the impression of a certain uniformity, that if you zoom in on it, you notice that one person has a moustache and another is wearing glasses. It's all the personalities and characters that form the crowd. It's the same for the Smurfs. They're all the same, but you can tell the difference between them."
"You'll find several failings of our society in the Smurfs. Sometimes, it is a caricature of the world of adults. Owing to the fact that I use imps and that I have given them their own language, I can easily refer to situations and past or current events. Those who want may understand."
"To draw a character's attitude, you really have to feel it. If I draw a character that's yawning, I automatically yawn because at the moment I'm drawing, I am that character. That's why the reader believes in it: this determination shines through in the drawing."
"It's true. The characters that I've created are not tough guys at the outset. The strength they express isn't spontaneous. Peewit, for instance, is resourceful. As for the Smurfs, they are constantly in danger. They become strong together, by being united. 'Smurf for all, all for smurf!'"
In fiction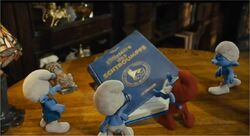 Peyo is at least referenced in-universe in the 2011 live-action movie as the Smurfs trapped in present-day New York City discover through the Internet and a book in Mr. Wong's Mystical Emporium that their legend has been passed on into that age through him, that they basically have been likened to leprechauns who are supposed to give whoever they visit good luck. The Google page article found by Patrick Winslow in the movie lists Peyo as more of a historian of the Smurfs rather than their creator, which explains why the humans in that universe are hardly aware of their existence (in other words, no Saturday morning cartoon show based on their adventures, though it is not known if any of his other cartoon creations existed). This self-referential use of Peyo's own comic book work in the movie is what the TV Tropes website calls recursive canon.
Bibliography
From the mid-1940's to his death in 1992, Peyo created many stories across several series, some of which are still ongoing.
Series
Tender-foot

, the little Indian (Pied-Tendre le petit indien) - 1946-1948

Puce

(Puce) - 1946-1948
Johan and Peewit (Johan et Pirlouit) - 1946-2001
Pussycat (Poussy) - 1949-1977
The Smurfs (Les Schtroumpfs) - 1958-present
Pierrot and The Lamp (Pierrot et la Lampe) - 1960, 1990-1992
Benny Breakiron (Benoît Brisefer) - 1960-2015

Jacky and Célestin

(Jacky et Célestin) - 1960-1966, 1979-1985. Only as the author, the artwork was all done by Will and François Walthéry.
Short stories
The Investigation Of Inspector Pik

(Les Enquêtes de l'inspecteur Pik) - 1946

Captain Coky

(Capitaine Coky) - 1948
Besides these series, Peyo also created stories for:
Trivia
Though there is no proof, Peyo claimed himself was a descendant of Robert Culliford, who was a 17th Century English pirate.
See Also
External links