You may also be looking for the original comic book story of the same name.
"Romeo And Smurfette" is a Season 1 episode from the 1980s Smurfs cartoon show.
Characters
Synopsis
Every Smurf (including Papa Smurf) wants Smurfette to marry them, and Gargamel takes advantage of that by controlling Smurfette.
Summary
It is the first day of spring, and as Papa Smurf steps outside to take in a breath of that fresh spring air, he gets a face full of smoke instead. He sees that a nearby Smurf is making smoke clouds in the form of Smurfette. He then sees another Smurf clipping hedges in the form of Smurfette, Painter Smurf painting pictures of Smurfette, and a fourth, Greedy, making cakes in the form of Smurfette. Papa Smurf realizes that his Smurfs have caught "spring fever", when a young Smurf's fancy turns to thoughts of love, and dismisses it at first as a harmless phenomenon. However, as Smurfette steps out of her to greet her fellow Smurfs, and they all charge toward her house with gifts, running over Papa Smurf in the process, he reconsiders the "harmless" part.
Hefty is the first to step forward from the crowd of Smurfs to bravely ask Smurfette, "Will you marry me?" Smurfette seems flattered but is also uncertain of how to answer. The other Smurfs also try to ask the same question, but before Smurfette could answer, Papa Smurf drives them all away and then suggests that she might want to consider an older and more mature Smurf to marry (hinting at himself) if she would want to marry someone. Of course, Papa Smurf gives himself away when he says that she could be known as Mama Smurf, which the other Smurfs nearby overhear, which in turn makes Papa Smurf embarrassed by his attempt to ask Smurfette and causes him to apologize to her before he goes away, wishing that he were 450 years younger.
All of Smurfette's fellow Smurfs ask for her hand in marriage...
...and so also does...Papa Smurf?!?
As the rest of the Smurfs are busy being lovestruck, plucking off petals from flowers and going, "she loves me, she loves me not", and Papa Smurf is busy using Hefty's exercise equipment in order to improve his appearance for Smurfette, she decides to go off into the forest to think about how to respond to the marriage requests. But out in the forest, Smurfette encounters a flower that puts her into a magical trance. She arrives in Gargamel's place, where her creator and former master (the one responsible for the flower that put her in a trance) reveals to her his plan for destroying the Smurfs. Arriving back in the village, Smurfette publicly announces that she has chosen Hefty and Handy -- which makes Papa Smurf and most of the other Smurfs feel somewhat heartbroken and rejected.
That night, Smurfette is greeted by two musical bands, both led by one of the Smurfs she has chosen earlier in the day -- Hefty and Handy. Both attempt to serenade her, competing for her full affections, which becomes a rather heated competition which results in a dangerous squabble between Hefty and Handy and also between their musical bands. Papa Smurf comes in the middle of the squabble to stop the Smurfs from fighting with each other, but it only makes Smurfette glad to see them fighting among themselves for her. She discards the flower that she has been carrying, and Papa Smurf observes it, sensing great evil in the flower, when it disappears in his hand, making him suspect that it is Gargamel's handiwork.
The next day, Smurfette finds Brainy painting a line through the village to separate Handy's group from Hefty's group and decides to have Brainy paint it wherever she directs him to, which causes a black line to be painted over Lazy and Grouchy as well as over a few Smurf houses. However, even the misdirected line doesn't separate Hefty and Handy from fighting with each other -- and neither does it stop the other Smurfs. Papa Smurf, who was busy coming up with a potion to counteract Gargamel's spell on Smurfette, runs out with the completed formula when he encounters another squabble, which causes his formula vial to break. Unable to get his little Smurfs to stop fighting, Papa Smurf pays Gargamel a visit to get his help whether he wanted to do so or not. By locking eyes with the human wizard, Papa Smurf casts a spell that causes the both of them to switch forms -- Papa Smurf is now Gargamel, and Gargamel is now Papa Smurf. As Papa Smurf in the form of Gargamel heads off into the village, Gargamel as Papa Smurf furiously follows, hoping that his adversary would change him back and soon.
Back at the village, the Smurfs stop fighting each other when they see Gargamel (who is Papa Smurf) enter for yet another attempt to capture them, and so end up gathering together to capture him instead. As "Gargamel" feigns fear in the presence of the other Smurfs, "Papa Smurf" decides to look through Papa Smurf's books to find the spell to return himself back to being Gargamel. Soon "Gargamel" is staked to the ground, strangely congratulating them for pulling themselves together from fighting each other, but they refuse to release him when he claims to be Papa Smurf. "Papa Smurf" emerges from Papa Smurf's laboratory with the spell to change him back, roughly pushing Smurfette aside and revealing himself to be Gargamel, making her realize what she has done. "Papa Smurf" tries to get "Gargamel" to look into his eyes, which he refuses until "Papa Smurf" forces his eyelids open and recites the spell, causing the two of them to change back into their original forms.
Gargamel seizes the opportunity to go after as many Smurfs as he can grab, chasing them into the forest and picking them off one by one. Soon Azrael appears, but instead of going after the Smurfs, he ends up going after Gargamel, who as Papa Smurf earlier told Azrael to go after a Smurf who was in Gargamel's form and leave him alone. As the Smurfs use this opportunity to escape from Gargamel, the evil wizard gets Azrael off him and tries to retrace his steps to return to the Smurf Village, but instead ends up going back home to his castle, frustrating him to no end and making him vow to get even with the Smurfs someday.
Later, as the Smurfs try to get Smurfette to choose which one she will marry, Papa Smurf forces Smurfette to finally make up her mind and give a response. Her response ends up being that she is still too young to think about marriage, and that she loves all the Smurfs equally. This makes her all her fellow Smurfs happy, as they forget about marriage and go back to celebrating things that Smurfs normally do in their lives.
As for Papa Smurf, he heads back into his laboratory to work out with the exercise machines again, grunting that there will always be next year.
Background Information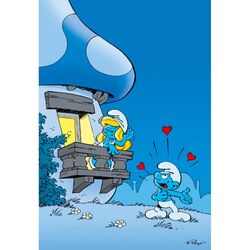 This episode is based on a series of one-page comic book sketches called "Romeos And Smurfette", where Smurfette visits the village with all her fellow male Smurfs, including Papa Smurf, hoping to marry her before she decides to wait again and heads off back into the forest. Part of the story is also based on "Smurf Vs. Smurf", a comic book story that appeared along with "The Smurfic Games" under the title "Smurf Of One And Smurf A Dozen Of The Other", where Papa Smurf enlists the grudging help of Gargamel to stop the Smurfs from feuding over the use of compounded words using the word "smurf".
This is probably the only time we ever hear about Papa Smurf having any amorous infatuation with Smurfette.
At the beginning of the episode, when Gargamel rants about the first day of spring, we first see what appears to be a window-washer scaffold outside his house. It is uncertain what its purpose is as far as its appearance is concerned.
One of the Smurfs in line to give Smurfette their gifts has a red and white box. It is possible that this is Jokey Smurf, as he has had these types of colored gifts before.
Trivia
In the Spanish dub, during the exchange of bodies between Papa Smurf and Gargamel, however the voices we're in the same versa of their bodies rather than swapped.
Goofs
In a scene where Handy is serenading Smurfette, his pants are miscolored blue like his comic book counterpart, except that version of the character wears dark blue overalls.
Videos