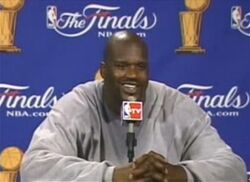 Shaquille Rashaun O'Neal (/ʃəˈkiːl/ shə-KEEL; born March 6, 1972), nicknamed Shaq (/ˈʃæk/ SHAK), is an American retired basketball player, former rapper and current analyst on the television program Inside the NBA. Standing 7 ft 1 in (2.16 m) tall and weighing 325 pounds (147 kg), he was one of the heaviest players ever to play in the NBA. Throughout his 19-year career, O'Neal used his size and strength to overpower opponents for points and rebounds.
As far as his filmography, his credits include Blue Chips (1994), Kazaam (1996), Good Burger (1997), Steel (1997) where he was nominated for the Razzie Award for Worst Actor, He Got Game (1998), The Wash (2001), Freddy Got Fingered (2001), After the Sunset (2004), Scary Movie 4 (2006), The House Bunny (2008), Jack and Jill (2011), and Grown Ups 2 (2013).
He makes a vocal performance in The Smurfs 2 as Smooth Smurf.
Community content is available under
CC-BY-SA
unless otherwise noted.