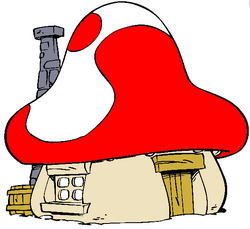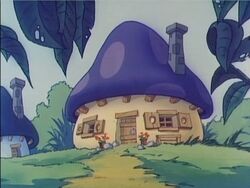 A Smurf house is a standard form of residence for a Smurf that's shaped like a mushroom. It is a two-floor house that typically has one door, a few ground-floor windows and some rooftop windows, and a chimney stack. The ground floor is usually used as the living room while the top floor is used as a bedroom. The roof of the Smurf house is an actual mushroom top that the Smurfs find in the forest.
The actual interior arrangement of a house depends on the occupant's personal use. Handy's house, for example, uses the ground floor for a workshop, while Papa Smurf's uses the ground floor for his laboratory.
Smurfs' Village
In the Smurfs' Village app, Smurf house is a main item on building a village. The game provides several houses in different colors and price in all districts(main, island, mountain and Planet Swoof). More smurfs will appears in the game when more house in placed. Players can upgrade their houses with coins and smurfberries to have more smurfs in the game.
Players can also place houses for more swoofs, but only once player complete the collections of constellations.
Special Smurfs characters(Papa Smurf, Brainy Smurf, Handy Smurf, Smurfette etc.) will have their own hut which can buy their hut with smurfberries and coins.
Community content is available under
CC-BY-SA
unless otherwise noted.