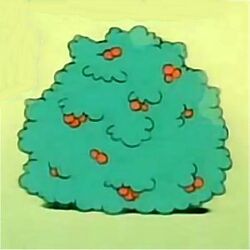 A smurfberry bush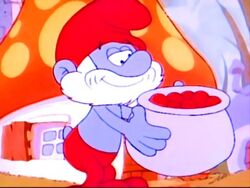 Papa Smurf with a pot full of smurfberries
A smurfberry is a round red berry that grows on a bush. It is generally considered the primary source of nutrition for the Smurfs along with sarsaparilla leaves. It is part of a plant that is mostly indigenous to the Smurf Forest, though there is a remote island guarded by the Sea Witch that also has smurfberry bushes growing on it. The smurfberry is mostly used in various types of dessert dishes as well as in liquid form as a juice. In the 2021 television series, smurfberries are replaced with blueberries.
In the 1981 cartoon show episode "Smurfs At Sea", it is revealed that Dreamy had found smurfberry seeds during his travels on the sea and brought them into the Smurf Forest to plant them there. This gave rise to the first smurfberry bushes that grew in the forest, which would become the main staple of a Smurf's diet.
Gargamel particularly finds smurfberries to be inedible and disgusting. However, when Gargamel created a Smurf hat from magic cloth that distorted Vanity's face when soaked with water, he told Papa Smurf that one of the ingredients for the antidote is an ounce of Smurf-pressed smurfberry juice. Also, Gargamel used smurfberries in place of choke cherries to bring his giant Dufus to life, only to find out that his giant was immune to smurfberry pie attacks and actually wanted to have more smurfberry pies.
Appearances in media
Smurfberries mostly appear in the 1980s cartoon show universe, but there are instances where they appear in other forms of media (except for the comics and 2021 cartoon show):
In Smurfs' Village, smurfberries are used to speed up building objects and buying certain items, like Smurfette, but this has received some criticism in the past, because some children were buying them, not knowing the smurfberries cost real money. Smurfberries are used in The Smurfs & Co. to buy health potions.
In the 2011 movie, smurfberries appear in the form of blueberries. In the sequel, Gutsy used the name as a euphemism for a man's testicles.
In the console versions of The Smurfs 2 video game, smurfberries act as a layer of protection against hazards, similar to the rings of Sega's Sonic the Hedgehog series. (i.e. If a Smurf (or Smurfette) holds at least one smurfberry when he collides with an enemy or dangerous obstacle, he/she will survive.)
As far as real-world food products, the 1983 cereal product Smurfberry Crunch was advertised as tasting like crunchy smurfberries, while the Stauffer's line of Smurf cookies features smurfberry-flavored animal crackers.
In-Universe Foods Made With Smurfberries
Smurfberry acorn surprise[1]
Chocolate covered smurfberries
Smurfberry bar
Smurfberry cake[2]
Smurfberry candy [3]
Smurfberry candy canes[4]
Smurfberry casserole[5]
Smurfberry chowder
Smurfberry cobbler[6]
Smurfberry cookies[7]
Smurfberry cupcakes [8]
Smurfberry fricassee
Smurfberry fudge torte[9]
Smurfberry gumdrops
Smurfberry honey cakes[10]
Smurfberry jam[10]
Smurfberry juice[11]
Smurfberry muffins[12]
Smurfberry pancakes[13]
Smurfberry pie[14]
Smurfberry popovers[15]
Smurfberry pudding[16]
Smurfberry puffs[15]
Smurfberry souffle[17]
Smurfberry soup
Smurfberry sundae[18]
Smurfberry shortcake[15]
Smurfberry swirl pound cake[19]
Smurfberry tart[22]
Smurfberry truffle[23]
Smurfberry turnover[24]
Smurfberry upside down cake
Smurfberry waffles
Stuffed smurfberries[5]
Gallery
References