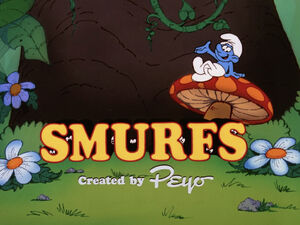 Season 2, which aired from 1982 to 1983, expanded the running time of the show from its original 60 minutes to 90 minutes, featuring three main-cast episodes and a "Johan And Peewit" episode during the final 30 minutes of the show, featuring Johan and Peewit as the main characters and the Smurfs as their supporting characters. The season also introduces three new Smurfs, Tracker, Scaredy and Sloppy, who mostly appear only in this season. It was during this season that two cartoon specials, "The Smurfs Christmas Special" (December 12, 1982) and "My Smurfy Valentine" (February 13, 1983), were aired, introducing Chlorhydris the evil witch as well as Cupid the cherub. This is the only season in which the writers are not credited.
Intro Sequence
The Season 2 intro sequence is noted for featuring the lyrics to the Smurf song, which were later used in both the 2011 Smurfs movie and in a dance version in one of the songs in the playlist of The Smurfs Dance Party. As in the first season, Clumsy runs to get behind the SMURFS title logo and then appears on the mushroom.
Episode Listings
The episodes that appeared in this season (in the order of their original air dates) include:
No. in series
No. in season
Title card
Title
Air date
Code
40
1
The Smurf Who Couldn't Say No
September 18, 1982
203
Scaredy is chosen to travel to the Great Swamp to get the Foxfire Flame, but he's too afraid to go to it, so he sends Pushover, who never says no, to do it instead of him.
41
2
The Adventures Of Robin Smurf
September 18, 1982
220
The Smurfs' theatre presents their adaption of The Adventures of Robin Hood.
42
3
The Cursed Country
September 18, 1982
J01
When a dragon attacks the Smurf Forest and captures almost every Smurf, Smurfette and Hefty travel and meet Sir Johan and Peewit, who will help them defeat the dragon.
43
4
Sister Smurf
September 25, 1982
202a
Smurfette befriends a girl named Laura and they get captured by an evil witch.
44
5
S-Shivering S-Smurfs
September 25, 1982
204b
No Smurf believes Tracker that the blizzard is coming, but it really comes, and Tracker is only one prepared for winter.
45
6
The Black Hellebore
September 25, 1982
J02
A wicked potion maker tries to get control over the King's castle by using a black hellebore to hypnotize people.
46
7
Revenge Of The Smurfs
September 25, 1982
208b
When the Smurf Forest starts turning into a battlefield by humans, Smurfette, Hefty, Greedy, and Jokey decide to vanish them from the land.
47
8
The Three Smurfketeers
October 2, 1982
222
The Smurfs' theatre presents their adaption of The Three Musketeers mixed with events from Romeo and Juliet.
48
9
Heavenly Smurfs
October 2, 1982
221b
When Gargamel faints while chasing the Smurfs, they make him think that he died, and he can only live by being nice to them.
49
10
It Came From Outer Smurf
October 2, 1982
206b
Dreamy meets an alien that takes in form of a Smurf, but no one believes him he really did.
50
11
The Sorcery Of Maltrochu
October 2, 1982
J03
Peewit finds a prince turned into a dog in the castle and he will find out how is it to live like a dog while helping him.
51
12
Squeaky
October 9, 1982
206a
Smurfette nurses an injured mouse and takes it as her pet, but she's about to learn something bad about life.
52
13
The Kaplowey Scroll
October 9, 1982
214b
Clumsy finds a scroll that contains a word which can make everything disappear.
53
14
The Goblin Of Boulder Wood
October 9, 1982
J04
Johan and Peewit are telling a story about their first adventure.
54
15
Gormandizing Greedy
October 9, 1982
202b
Greedy is put on a diet, but he is secretly still overeating, making it easier for Gargamel to catch him.
55
16
Waste Not, Smurf Not
October 9, 1982
204a
Handy invents a machine that picks all of Farmer's crops and produces food - so many foods that the Smurfs start to waste it.
56
17
Johan's Army
October 16, 1982
J05
A group of people come to the castle telling the King that the ogre is coming, but it's all just a trick to take over the King's castle.
57
18
The Lost City Of Yore
October 16, 1982
219
Nosey, Brainy, and Clumsy get captured by twin witches that want to find the Lost City of Yore and Nosey follows them due to his curiosity.
58
19
The Magic Fountain
October 16, 1982
J06
When Johan, Peewit, and the Smurfs get shipwrecked on an island, some poor people from there ask them for help - they must get a drink from the magic fountain to reclaim their lost power.
59
20
The Impostor King
October 23, 1982
J07
A crook kidnaps the King and dresses up like him to steal the treasure from his castle.
60
21
For The Love Of Gargamel
October 23, 1982
210a
While chasing the Smurfs, Gargamel spills his formula and turns himself and Azrael into stone.
61
22
The A-Maze-Ing Smurfs
October 23, 1982
209b
Papa Smurf goes to cure Malchior the Magnificent, but Jokey and a group of Smurfs follow him into Malchior's maze.
62
23
The Haunted Castle
October 23, 1982
J09
Johan, Peewit, Papa Smurf, Smurfette, and Brainy help a ghost who lives in a haunted castle in dried land to bring life to that place again.
63
24
Smurfs At Sea
October 30, 1982
215
Papa Smurf tells a story about Dreamy's first sailing adventure.
64
25
One Good Smurf Deserves Another
October 30, 1982
208a
Handy saves Clumsy from Gargamel, so Clumsy wants to help Handy to return him a favor.
65
26
The Blue Plague
October 30, 1982
205
Brainy's attemp to make all the Smurfs like him accidentally transforms them into bird-acting yellow Smurfs.
66
27
The Last Laugh
October 30, 1982
209a
Gargamel has discovered a new method to eliminate the Smurfs - a powder that makes everyone can't stop laughing.
67
28
The Raven Wizard
November 6, 1982
J08
Johan and Peewit must save princess Sabina from a mean count Gregorian, also known as the half-raven and half-human Raven Wizard.
68
29
The Ring Of Castellac
November 6, 1982
J10
Brainy has found the ring of a runaway Duke of Castellac. Now it's up to Johan, Peewit, and the Smurfs to save the duke after he's being hypnotized.
69
30
The Sky Is Smurfing! The Sky Is Smurfing!
November 6, 1982
211a
While Papa gets a strange cold, Scaredy starts frightendly telling everyone that the sky is smurfing. Maybe those two things are related...
70
31
Turncoat Smurf
November 6, 1982
211b
When Brainy unknowlingly gives Gargamel their clothes which the wizard needs, the Smurfs start believing that he's helping an evil sorcerer.
71
32
Return Of The Clockwork Smurf
November 13, 1982
J11
King Gerard's uncle destroys Clockwork Smurf and makes his plan to take Gerard's castle easier.
72
33
The Littlest Giant
November 13, 1982
217
The Smurfs finds a child giant that was lost in the forest, but after a little conflict, he runs away and ends up under Gargamel's control.
73
34
Bubble, Bubble, Smurfs In Trouble
November 13, 1982
221a
Scaredy can hide into unbreakable bubbles with a magic wand he received from water sprite.
74
35
Smurf Van Winkle
November 13, 1982
210b
The Smurfs trick Lazy that he falls asleep for 300 years and give themselves an old makeover. But when Lazy use a formula to de-age them, they turned into the Smurflings.
75
36
The Prince And The Peewit
November 20, 1982
J12
Peewit is mistaken for a prince that looks identical to him. When the crooks in "his" castle find that out, they plan to trap him up.
76
37
The Enchanted Baby
November 20, 1982
J13
Johan and Peewit must find the mother of a very special baby - he can disappear and reappear in the other place while in danger.
77
38
Clumsy Smurfs The Future
November 20, 1982
213a
Clumsy finds a strange rock that shows him some glimpses into what's going to happen in the future.
78
39
Sleepwalking Smurfs
November 27, 1982
216b
Gargamel attemps to catch the Smurfs using Madame Trilbee's magic flute that makes everyone who's asleep sleepwalking.
79
40
Smurf Me No Flowers
November 27, 1982
214a
The Smurfs thinks that sleepless Lazy is going to die, so he sets out to do all the dangerous things he was always too lazy to do before.
80
41
The Good, The Bad, And The Smurfy
November 27, 1982
201
An evil wizard Mordain captures Papa Smurf, Smurfette, Brainy, and Clumsy in order to help him to turn the whole kingdom into frogs.
81
42
A Mere Truffle
November 27, 1982
207
When leading the other Smurfs to a truffle hunt, Tracker loses his memory and wanders away while the others are captured by the Truffle Trolls.
82
43
The Stuff Dreams Are Smurfed Of
December 4, 1982
213
When everyone has nightmares, the Smurfs team up with Gargamel to find the Crown of dreams, but Gargamel betrays them and uses the crown against them.
83
44
The Box Of Dirty Tricks
December 4, 1982
216
A box that plays tricks on others appears in the Smurf village after Gargamel accidentally throws it to the river.
84
45
Papa's Wedding Day
December 4, 1982
212
Papa Smurf falls in love with a woodnymph named Flowerbell, but the woodnymph was sent by Lord Balthazar in order to capture all the woodland animals.
85
46
All's Smurfy That Ends Smurfy
December 4, 1982
218
When Gargamel steals fairy gold, the fairies accuse the Smurfs of stealing it and start a war between them.
Video Releases
Warner Home Video released the following titles, each of which features five episodes from this season.
The Smurfs: A Magical Smurf Adventure by Warner Home Video is a 2 DVD set with 10 episodes from Season 2.
Fabulous Films has released a 4-disc DVD set of Season 2 episodes (minus the Johan and Peewit episodes) in the United Kingdom. However, the episodes use a modified version of the Season 1 intro sequence.
In August 2011, Magna Home Entertainment released the entire season on DVD set for Australia and New Zealand. All the episodes and two specials (My Smurfy Valentine and The Smurfs Christmas Special) except the Johan and Peewit episodes were included.
Imavision released a Season 2 DVD set in French in Canada.
In August 2011, Sony Pictures Home Entertainment have released the entire season DVD set for Germany, with all the episodes and two specials (My Smurfy Valentine and The Smurfs Christmas Special) except the Johan and Peewit episodes were included.
In August 2020, HBO Max released season 2 in a brand-new HD remaster of the original uncut USA editions.