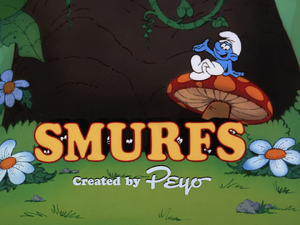 Season 3, which aired from 1983 to 1984, introduced the new main character of Baby Smurf as well as the adult version of Nat Smurf, who would remain an adult until Season 5. It also introduced a new object: Gargamel's Great Book Of Spells, which is activated the morning after the final phase of the full moon. It was also during this season that the cartoon special "The Smurfic Games" was aired. This season would also be the first where there were now 5 episodes that would air in its 90-minute running time until Season 8, with supporting characters Sir Johan and Peewit folded over into the main cast's stories. It was during Season 3 that the "non-canonical" Smurf story "The Smurfs And The Magic Flute", an animated film from Europe, made its run in American theaters in 1983.
Season 3 marked a bigger breakaway from the confines of the Middle Ages as seen in the first two seasons and more of a tie-in with familiarities of the modern world in this season and each season thereafter. Such examples include The First Telesmurf dealing with telephones, The Golden Smurf Award dealing with awards, and Smurfy Acres dealing with neighborhood projects. All of which are things that came centuries after the Middle Ages. Human characters, however, would remain stuck in the Middle Ages and the technologies, or lack thereof, of the times.
It's also the breaking point where the episodes became more story-driven (despite the establishment of running gags) and are a vast improvement over the episodes from the previous seasons, which are full of slapstick antics with very little to no hints of story. It was at this point the writers started putting more emphasis on dialogue to make the storylines stronger, where they couldn't before when the show started. Papa Smurf's short temper started to tone down, making him a kindly, easygoing and helpful father figure.
Episode Listings
The episodes that appeared in this season (in the order of their original air dates) include:
No. in series
No. in season
Title card
Title
Air date
Code
86
1
Once In A Blue Moon
September 17, 1983
301
Baby Smurf is brought to the village by a stork and everyone loves him. When the stork comes back and tells the Smurfs that bringing Baby was a mistake, Grouchy runs away with him because he doesn't want Baby to go.
87
2
All Creatures Great And Smurf
September 17, 1983
329b
Nat's love of animals has gone too far this time - he brings an injured Azrael to the village!
88
3
The Smurf Fire Brigade
September 17, 1983
303b
The Smurfs organize a fire brigade, but Gargamel dries the river and plugs out their water.
89
4
The Winged Wizard
September 17, 1983
305a
Gargamel attempts to fly using many spells from the Great Book of Spells in order to capture the Smurfs and prove the other wizards that they really exist.
90
5
Every Picture Smurfs A Story
September 17, 1983
304
Maestro, a painter who's stuck in a painting, gives Painter magic colors in order to free himself from the picture.
91
6
The First Telesmurf
September 24, 1983
305b
When Farmer's melons grow all over the village due to Papa's potion, Handy gets an idea for a telephone.
92
7
Handy's Kite
September 24, 1983
J14b
Handy, Dreamy, Brainy, and Clumsy are taken away in a giant kite, landing right into Balthazar's castle.
93
8
The Magic Earrings
September 24, 1983
312b
Hogatha disguises herself as a princess to get the second magic earring she needs from Gargamel.
94
9
The Last Smurfberry
September 24, 1983
310
Gargamel destroys all the smurfberry bushes in the forest except for one he plants next to his hovel, so Dreamy and his crew are sent to Smurfberry Island to get more smurfberries.
95
10
A Little Smurf Confidence
October 1, 1983
309a
The Smurfs attempt to give Weakling some confidence to make him think he's stronger.
96
11
Hogatha's Heart Throb
October 1, 1983
311a
Hogatha wants to meet a wizard named Harlequin, so Gargamel disguises himself as Harlequin to get the magic whistle from Hogatha.
97
12
Born Rotten
October 1, 1983
303a
Gargamel sends a stinky creature to the Smurfs to infiltrate their village.
98
13
The Tear Of A Smurf
October 1, 1983
313a
A hag captures Jokey, Grouchy, and Azrael in order to free herself from a curse.
99
14
The Miracle Smurfer
October 1, 1983
314
A wicked doctor offers his "miracle tonic" to the Smurfs, which obsesses them so much that they start selling their things to that man in exchange for that potion, so it's up to Smurfette to stop this madness before it goes too far.
100
15
The Smurf Who Would Be King
October 8, 1983
330a
After having an accident on his ship, Dreamy wakes up as a king among the little bears.
101
16
How To Smurf A Rainbow
October 8, 1983
313b
Mother Nature trusts the Smurfs that they can create a rainbow on the Rainbow Day.
102
17
Smurfette For A Day
October 8, 1983
312a
Hefty disguises himself as Smurfette to trick a gnome who wants to take Smurfette into his underground home.
103
18
Peewit Meets Bigmouth
October 8, 1983
J16a
Peewit accidentally transforms a little prince into a chicken, and worse, now he must save the prince from Bigmouth.
104
19
Lumbering Smurfs
October 8, 1983
316b
Can the Smurfs stop the lumberjacks from cutting down the whole forest?
105
20
Handy's Sweetheart
October 15, 1983
321
Handy falls in love with a mermaid named Marina while saving her father.
106
21
A Hovel Is Not A Home
October 15, 1983
317a
Gargamel tries to capture the Smurfs with the help of his Great Book of Spells in order to buy himself a bigger home.
107
22
Speak For Yourself, Farmer Smurf
October 15, 1983
317b
Farmer poses himself as another Smurf to get the amorous attention of Smurfette.
108
23
Forget Me Smurfs
October 15, 1983
320a
An early-blooming flower causes all the Smurfs (except Sickly) to lose their memory.
109
24
The Grumpy Gremlin
October 15, 1983
J16b
Peewit chops down a gremlin's tree, so the gremlin moves to the Great Oak until Peewit finds him a new home.
110
25
Willpower Smurfs
October 22, 1983
322a
Jokey tests Vanity, Greedy, Harmony, Grouchy, and Lazy if they can hold on without their habits for one day.
111
26
Clumsy Luck
October 22, 1983
322b
Brainy locks Clumsy into his house for seven years thinking that he's bringing bad luck, but a meteor falls right onto Clumsy's house.
112
27
Baby Smurf Is Missing
October 22, 1983
325a
Poachers capture Baby thinking that he's a leprechaun.
113
28
The Smurfs' Time Capsule
October 22, 1983
323
The Smurfs must solve a riddle from the time capsule to defeat the evil druids.
114
29
Wedding Bells For Gargamel
October 29, 1983
328b
A princess is forced to marry Gargamel, so the Smurfs help her find her wedding gifts, but things go wrong when Poet gives her a map to their village instead of his poem.
115
30
To Smurf A Thief
October 29, 1983
318b
Homnibus starts raising a boy that's later accused of stealing teacher's jewels, so Homnibus and Papa Smurf must prove he's innocent.
116
31
Greedy And The Porridge Pot
October 29, 1983
324a
Greedy receives a magic porridge pot from a fairy after saving her life, but thanks to Brainy, the whole village gets flooded by the porridge.
117
32
Harmony Steals The Show
October 29, 1983
309b
Harmony signs a contract with a ghost in exchange for getting a written symphony, but when he plays it for the Smurfs, he's forced to perform in a ghost bar.
118
33
The Golden Smurf Award
October 29, 1983
307
Brainy makes a contest, the "Golden Smurf Award", on which the trophy is actually disguised Hogatha!
119
34
The Moor's Baby
November 5, 1983
J15
The Smurfs must solve an algebra problem to free the Tooth Fairy and ease the teething pains of both Baby Smurf and a visiting moor's baby.
120
35
Hefty's Heart
November 5, 1983
318a
Gargamel affects Hefty with the Yellow Hate Disease.
121
36
A Hug For Grouchy
November 5, 1983
328a
Chlorhydris uses her ice wand on a fairy that begins removing emotions from the Smurfs and the fairy must get a hug from the biggest grouch to reverse the spell.
122
37
The Magic Rattle
November 5, 1983
329a
Baby switches his rattle with a magic rattle of a little prince.
123
38
All Hallows' Eve
November 5, 1983
315
When Lazy is sent out to get the firewood on Halloween, Mother Nature accidentally turns him red and he gets captured by Gargamel and Hogatha.
124
39
The Littlest Witch
November 5, 1983
325b
The Smurfs teach a young witch named Brenda how to be good.
125
40
April Smurf's Day
November 12, 1983
302a
Papa Smurf decides to play a prank on a smurfberry bush Gargamel after he captures a lot of the Smurfs with his disguise.
126
41
The Magic Stick
November 12, 1983
302b
Clumsy loses Papa's magic teleporting stick and finds a wrong replacement, so the Smurfs must find it before Bigmouth chomps down their smurfberry crop.
127
42
Baby's First Christmas
November 12, 1983
326
The Smurfs try to make Baby's first Christmas special, but Chlorhydris wants to ruin this day by giving Mr. Nicholas the kiss of hate.
128
43
Beauty Is Only Smurf Deep
November 12, 1983
330b
Periwinkle, the perfection-minded pixie, finds a kindred spirit in Vanity and tries to kill him.
129
44
Wolf In Peewit's Clothing
November 12, 1983
J14a
An evil wizard turns Peewit into a werewolf to capture some the Smurfs.
130
45
A Bell For Azrael
November 12, 1983
311b
Brainy's brilliant idea to put a bell on Azrael is used against the Smurfs when Gargamel puts his spell on the bell.
131
46
The Chief Record Smurf
November 19, 1983
308a
A lab accident gives Clumsy a photographic memory, and Gargamel tries to use him to get an invisible formula from Papa Smurf.
132
47
Smurfing In Sign Language
November 19, 1983
324b
Gargamel magically makes Poet mute, so Laconia, the mute wood elf, teaches him the wonders of sign language.
133
48
Chip Off The Old Smurfs
November 19, 1983
316a
Everybody wants Baby Smurf to be like them while Gargamel invades the forest with the plant-eating insects that duplicates.
134
49
A Gift For Papa's Day
November 19, 1983
320b
Papa Smurf tries to discreetly dispose a hat that he received from the Smurfs for Papa's Day that he doesn't like.
135
50
Good Neighbor Smurf
November 26, 1983
308b
Brainy proves to be the worst roommate when ever he must stay at another Smurf's home, so he goes live into the forest.
136
51
The Smurfstone Quest
November 26, 1983
327a
Papa Smurf breaks his leg and asks Handy, Hefty, and Lazy to find a crystal with healing powers.
137
52
Hats Off To Smurfs
November 26, 1983
306a
A magic hat from Gargamel disfigures Vanity's face when he splashes water on himself, and he even can't get it off.
138
53
The Noble Stag
November 26, 1983
319
Harmony learns that Malcolm the Mean has turned King Gerard into a black stag when he's unknowingly taken to his castle.
139
54
Smurfy Acres
November 26, 1983
327b
Gargamel uses the Great Book of Spells once again in order to lure the Smurfs into another Smurf Village he created.
140
55
No Time For Smurfs
November 26, 1983
306b
Brainy, Clumsy, Handy, and Smurfette cause all time to stop when they accidentally break Father Time's hourglass.
Video Releases
Amazon Instant Video and iTunes has individual episodes available for download
iTunes and Zune have individual episodes available for download. Some episodes in the iTunes edition carry the syndicated Smurfs Adventures repackaging, as opposed to the rest of the season, which remain uncut and use the original intro sequence and credits.
In October 2011, Magna Home Entertainment released the entire season on DVD set for Australia and New Zealand. All the episodes except the Johan and Peewit episodes are included, along with The Smurfic Games Special.
In October 2011, Sony Pictures Home Entertainment released the third season on DVD set for Germany, featuring all the episodes (except the Johan and Peewit episodes) and The Smurfic Games special.
Fabulous Films released the entire season (with all the episodes, except the Johan and Peewit episodes) on 4-disc DVD set for the United Kingdom from July 2013.
Imavision released a Season 3 DVD set in French in Canada.
In October 2020, HBO Max released season 3 in a brand new HD remaster of the original uncut USA editions.