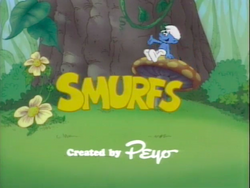 Season 7, which aired from 1987 to 1988, introduced the character of Wild Smurf in a two-part introductory episode called "Smurf On The Wild Side". It was during this season that another Christmas special, "'Tis The Season To Be Smurfy", was aired.
The Season 7 intro sequence reuses several scenes from the Season 6 intro sequence.
Episode Listings
The episodes that appeared in this season (in no particular order, except for the season premiere) include:
1. Smurf On The Wild Side (Parts 1 to 2) (Season Premiere)
2. All The News That's Fit To Smurf
3. The Answer Smurf
4. Azrael's Brain
5. Baby's Marvelous Toy
6. Bad Luck Smurfs
7. Bouncing Smurf
8. Castaway Smurfs
9. Chlorhydris' Lost Love
10. Clockwork Smurfette
11. To Coin A Smurf
12. Crooner Smurf
13. Cut-Up Smurfs
14. Dancing Bear
15. The Fastest Wizard In The World
16. Flighty's Plight
17. Foul Feather Fiend
18. Gargamel's Last Will
19. Gargamel's Quest
20. Gargamel's Second Childhood
21. Gargamel's Sweetheart
22. Hefty's Rival
23. A Hole In Smurf
24. I Was A Brainy Weresmurf
25. Jokey's Joke Book
26. Legendary Smurfs
27. Little Big Smurf
28. Locomotive Smurfs
29. A Long Tale For Grandpa
30. The Magic Sack Of Mr. Nicholas
31. Nobody Smurf
32. Papa For A Day
33. Peewit's Unscrupulous Adventure
34. Poet The Know-It-All
35. Poet's Storybook
36. Poltersmurf
37. Predictable Smurfs
38. Prince Smurf
39. The Return Of Don Smurfo
40. Sassette's Bewitching Friendship
41. Sassette's Hive
42. Scruple And The Great Book Of Spells
43. Sing A Song Of Smurflings
44. Skyscraper Smurfs
45. Sleepless Smurfs
46. Smurfette's Lucky Star
47. Smurfette Unmade
48. Smurfing For Gold
49. Smurfing Out Of Time
50. Smurfing The Unicorns
51. The Smurflings' Unsmurfy Friend
52. Smurf Pet
53. The Smurfstalker
54. The Smurf Who Could Do No Wrong
55. The Smurfy Verdict
56. Snappy's Puppet
57. Soothsayer Smurfette
58. Stop And Go Smurfs
59. Swapping Smurfs
60. Timber Smurf
61. Vanity's Closest Friend
62. Vanity's Wild Adventure
63. Where The Wild Smurfs Are
64. Wild About Smurfette
Video Releases
Apple iTunes has made the entire set of Season 7 episodes available for download in two volumes.
On July 2013, Sony Pictures Home Entertainment released the entire season on DVD set for Germany, featuring all the episodes and the German version of 'Tis The Season To Be Smurfy.
On August 2013, Beyond Home Entertainment released the entire season on a DVD set for Australia and New Zealand.