Welcome to The Smurfs Wiki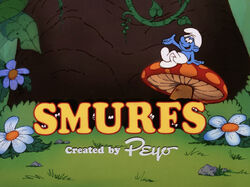 Smurfs are little blue creatures who live in a village made of mushrooms. Their leader is Papa Smurf, who looks over his Smurf society consisting of Brainy Smurf, Smurfette, Handy Smurf and many others. Their arch-nemesis is Gargamel, an evil wizard always trying to catch Smurfs as part of his various nefarious plans. Gargamel's faithful companion is his cat, Azrael.
The Smurfs is a franchise initially created for Belgian comics, and gained popularity in a 1980s television series. The characters have recently made their way to the silver screen in the The Smurfs (2011), The Smurfs 2 (2013), and Smurfs: The Lost Village (2017).
The Smurfs are returning in 2021 with a new television series.
The Characters
The Series
Featured Videos
About the Wiki
The Smurfs Wiki is dedicated to the classic comic, tv series, and feature films.
We currently have 81,098 edits to 2,734 articles and 14,748 images on this wiki.
Administrators • Recent Changes • New Photos • New Pages • Help Wiki
Twitter
Blogs
Blogs
On Nickelodeon, there's a special place inhabited by little blue beings, three apples tall, and know that even feeling blue is a good thing! 
Smurfette: "*giggles as her teeth become rainbow colored a…
Recently today, Kelly Asbury, the director of Smurfs: The Lost Village, has passed away due to cancer.
Link to article
See more >
Rules Of This Wikia
Please DO NOT vandalize the pages of this wiki by inserting false information. Also DO NOT post articles about nonexistent forms of Smurfs and Peyo Creations-related media presentations if there is no evidence for such on the Internet. If you keep going at it, the pages that are constantly subject to edit wars will be locked up, the articles about nonexistent media presentations will be deleted, and you will be blocked permanently from this wiki.
Please DO NOT create blank article pages on Smurfs or Peyo Creations-related subjects that you do not intend to fully develop into an article. Either put some effort into developing the pages or your submissions will be relegated as Stubs or, at the very worst, deleted.
All submissions to this wiki are subject to the administrator's judgment of whether it should be posted or not. Constant fighting with an administrator's judgment of content will subject the user to a permanent block from this wiki.
Community content is available under
CC-BY-SA
unless otherwise noted.