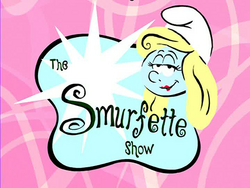 "
The Smurfette Show
" was an animated
TV Funhouse
segment of
NBC
's
Saturday Night Live
, which featured an obese
Smurfette
in a spoof of
The Anna Nicole Show
, a reality series featuring Anna Nicole Smith. This spoof uses rather adult humor and is not considered suitable for general audiences. It is also considered a
"non-canonical" Smurf story
.
Plot
Smurfette is sick of living in the same village and house. She looks for pizza and finds out Brainy Smurf ate it all so they, along with Low Self Esteemy Smurf go to get more, they find Papa Smurf, Handy Smurf, and Hefty Smurf, setting up a poorly made trap for Azrael, Smurfette starts cursing and Papa Smurf corrects her by suggesting to say it in "Smurf language", until Smurfette said, "I need to master.. er..I mean...smurf-erbate.". Papa Smurfs replies, "Good girl". Smurfette needs to go to the hospital, and Azrael is her doctor.