The Smurfs & Co. is a game that's playable on Facebook. On July 3, 2013 the game was no longer available to play and was replaced by its sequel The Smurfs & Co.: Spellbound.
Gameplay
My little Smurfs, this page needs to smurf its best!

This article could be brought to a higher standard of quality with some cleanup work. Please contribute to improving this article or else it will be deleted from this wikia.
This template will categorize articles that include it into Cleanup.
Gargamel has found the location of the Smurfs town and it's up to you to help Papa Smurf create a special potion to make Gargamel forget. You'll build elaborate towns in new and unique locations in order to find the special ingredients needed for the potion. Starting out in the forest, you'll need to clear away weeds, shrubs, and thorns to establish your very own town with amazing workshops, buildings and decorations. As your towns become happier and happier, famous Smurfs will come to visit you with exciting quests. Play together with your friends and help each other as you continue on this great journey!
Town Building:
Build your Smurf Town from the ground up, adding residences and entertainment options to increase the happiness of your Smurfs. Make your town known and attract Famous Smurfs who will help you find the special ingredients with their contributions, allowing you to develop additional towns in various locales.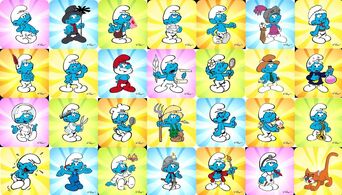 Gather, Build and Grow: Plan the layout of your town in the best way possible to make the Smurfs happy, generating more Smurf Coins and resources! Shop for new items, supply your structures, build new attractions and decorate your town to keep the population growing and your economy booming.
Famous Smurfs: Over 30 of your favorite Smurfs will be available at launch, including Handy Smurf, Brainy Smurf, Hefty Smurf, Smurfette and so many more! Each will provide you with new options that will not only provide an incentive to your economy and the happiness of the Smurfs but will get you one step closer to finding all the ingredients for the magic potion.
Connect with Neighbors: Invite your friends to play and build out their dream Smurf towns. Lend them a hand by helping them secure more energy, decorations and items. Send them gifts to finish building projects or by clearing the land so they have more room to grow. Helping friends has its rewards as it will also help you accelerate your own growth while providing more things to share with your friends!
Additional Content Rollout: Several new features are being developed to enhance the gameplay and to extend the storyline. These include Power Ups and Wonders which will grant special abilities to do amazing things that a normal Smurf can't do, Epic Quests, Daily Bonuses, Customizable Smurf Avatars and so much more. Content will be rolled out on a regular basis, with the first major release scheduled in September 2011.