Don't worry, my little Smurfs -- we haven't smurfed the last of this yet!

This article features information about an upcoming project related to the Smurfs, and will change significantly when more information becomes available.
This article is called a stub, my little Smurfs!

This article likely contains little information and may also be inaccurate or out-of-date.
Please help expand this article or update it with more accurate information.
This template will categorize articles that include it into Stubs.
I'm going to tell Papa Smurf on you for smurfing a peek at this!

This article contains plot details about an upcoming episode or feature.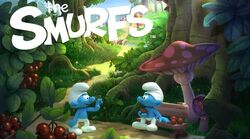 The Smurfs: A New Touch Of Blue is the working title of an upcoming TV series being developed by IMPS and Dupuis Audiovisuel that is set to be broadcast in the fall/autumn of 2020 in France on TF1. It will feature full CGI animation similar to that of the animated film Smurfs: The Lost Village. Episodes of the new series are scheduled to run 13 minutes each. On June 18, 2020, it was revealed that the series will air on Nickelodeon in the United States through the fall of 2021. 
The pitch bible for the series was made available for download in late 2019 on the official SmurfBusiness site via a QR code in their 2019-2020 Audiovisual Catalogue. According to the file name, this version of the bible dates back to September 2018.
The character section reveals that the Smurfettes introduced in The Lost Village movie and Baby Smurf will be included in the series.
Despite the spoiler alert the catalogue itself gives, it should be noted that some info in the bible such as characters, personalities, and relationships may be slightly altered in (or may not match) the final product.
A teaser trailer (or animation test) for the series was shown at an event in October 2018. A recording of it was then leaked onto Facebook, which has since been removed. A teaser was posted on Vimeo IMPS on June 25, 2020, showing animated footage of Jokey and Harmony Smurf.The teaser was later uploaded to the official Smurfs Youtube Channel on October 6, 2020.
Currently, it is unknown when or if another new trailer for the series will be released to the public.
Gallery
Videos
Community content is available under
CC-BY-SA
unless otherwise noted.