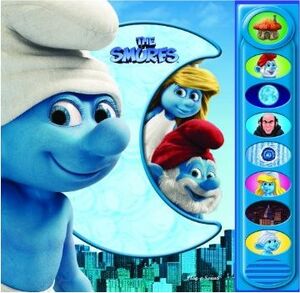 The Smurfs Sound Book is a children's story book published by Publications International. It has an attached eight-button audio module that enables children to add voices, music, and other sounds to a story adapted from the 2011 movie The Smurfs. The story follows the Smurfs as they find themselves stranded in New York City with Gargamel on their trail. The interactive book is recommended for children ages 3 and older.
Kids match icons on the book's pages to the sound buttons to activate sounds and music inspired by Papa Smurf, Gargamel, Smurfette, and Clumsy Smurf. The buttons activate these sounds:
A tune from Smurf Village.
Comforting words from Papa Smurf.
The glowing moon.
Gargamel's sinister laugh.
The opening of a powerful magical getaway.
Helpful words from Smurfette.
Bustling sounds from New York City.
Clumsy saying "sorry."