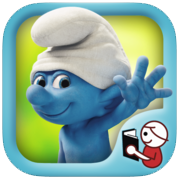 The Smurfs Movie Storybook is a storybook app developed by FrogDogMedia and released for the iPhone and iPad.
Description
The story is as same as the Smurfs film in 2011. Which Clumsy, Papa Smurf, Smurfette, Brainy, Gutsy, and Grouchy go to the New York City accidentally from escaping Gargamel's attack. In the app, read about the adventures of meeting the Winslow family, the chase of Gargamel, who chases the Smurfs to New York and returning home.
In addition to narrating "The Smurfs" story, this app also contains a bonus feature: "Spot the Mistake", an entertaining game that requires the user's skillful concentration to find "mistakes" within images from the original Smurfs movie.
Community content is available under
CC-BY-SA
unless otherwise noted.